Hors d'Oeuvres
Your guests might like some tasty morsels while mingling. Prices vary. Contact us, we'll talk over the options with you! Don't forget: Coastal Critters prepares your meal with the freshest, highest quality ingredients available. We use the most local resources possible, including fresh seafood and lobsters right off the boat. Our staff will serve your wants and needs with pride and care.

Cold Hors d'Oeuvres
Local Maine Cheeses, Fresh Fruit, and Assorted Crackers

Shrimp Cocktail Platter

Locally Smoked Seafood Platter

Traditional Tuscan Antipasto

Mini Lobster, Crab, or Shrimp Rolls
seafood salad on a soft finger roll

Colorful Crudites and Dip
fresh vegetables with assorted dips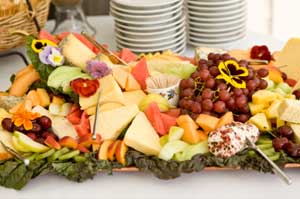 Hummus
A puree of chick peas and tahini with lemon, olive oil, and spices. Served on pita bread.

Guacamole
avacado, garlic, scallions, jalapeno peppers, and lemon. Served with tortilla chips.

Salsa
chopped tomatoes, onions, peppers, and fresh cilantro. Served with tortilla chips.

Crab or Lobster Dip
a cream cheese or goat cheese dip with lobster or crab meat.

Hot Hors d'Oeuvre or Soup
*(These are our most popular offerings.)
New England Chowder Bar
Homemade clam or corn chowder

Mini Crab Cakes - or - Mini Shrimp Cakes

Grilled Coconut-marinated Shrimp - or - Grilled Pesto Shrimp
Grilled Scallops - or - Grilled Scallops w/bacon
Stuffed Mushrooms
Grilled on a Stick
Delicious and easy to eat!
Shrimp with Chorizo Sausage

Bacon-Basil Shrimp
Assorted Mini Kabobs
a creative variety of tasty tidbits