World's Longest Lobster Roll - June 29, 1997
Registered with the Guinness Book World Records
How did the Guinness World Record come about?
Coastal Critters founder, Mark Eller, tells the story:


The Big Idea: I got a call one morning from Peter Thompson, Director of the Augusta, Maine Chamber of Commerce. They put on the World's Biggest Canoe Race each year. All kinds of paddled water-craft are entered, including wash-tubs, etc.
He wanted to do something extra-special in the food court that particular year. We somehow came up with the idea of a really big lobster sandwich.

The First Step: I needed to find somebody that was willing and able to make a bun that was at least 50' long. Most of the people I contacted said the same thing ... "You want WHAT?" ... followed by laughter, click and dial tone.

After several dozen phone calls, I was lucky enough to get a hold of Bruce Starrett at Penobscot Frozen Foods in Belfast. They make all those frozen, stuffed potatoes seen in stores nationally. He took the challenge with good humor and as a fun project.

The Oven: Bruce's idea was to turn off the rotisserie on their 50' rotary oven,
to stop the continuous production time, and to place the bun inside. But on what?
He remembered that he had a 55' long piece of heavy-duty angle-iron that may serve the purpose.

The Bun: We then contacted Mark Weaver of Weaver Bakery in Belfast to get any ideas he might have. He not only came up with the winning idea, he agreed to make the dough for the project. Aluminum foil was carefully placed along the entire length of the angle-iron and sprayed with vegetable oil. The dough was rolled out and then placed inside. It was put in the oven and watched with anticipation and eagerness. Twenty five minutes later a really long bun was pulled out, nicely browned and intact.

(How many guys does it take to carry a lobster roll? - Lots !)
The Truck: Now, this piece of angle-iron weighed about 300 pounds and was over 50' long; too long for a standard 40' flatbed truck. Peter Thompson, from the Chamber, called Norm Allen, who runs a trucking company. Norm agreed to join the project and he sent down a special flatbed tractor-trailer truck that was long enough to handle the bun.

The Road Trip: Being oversize, we had to get a State Police escort to travel the 40 miles from Belfast to Augusta. So down the road it went with blue lights flashing and "oversize load" banners flying. Quite a sight to see.

Upon arrival in Augusta, a gang of us very carefully placed it on seven 8-foot tables. Then we very, very carefully rolled the bun out onto the tables and cut own the length of it. If it broke, all our efforts would have been for naught.

The Lobsters: David Aho of Grindle Point Lobster Company cooked and donated 150 lobsters for the event. We then had to pick all the meat from them. Some of the claw meat was the size of baseballs.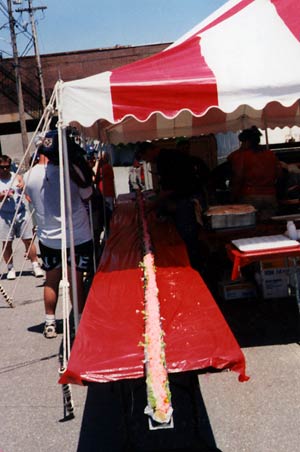 The Sandwich: We proceeded to chop the meat and celery and so on to make up what could be called a large lobster salad. Then very carefully, we lined the bun with leaf lettuce and filled the entire length of the bun with the lobster salad to finish the project.

The World Record: With our project finally completed, it was time to measure our success. At 50'+11&7/8'', we beat the standing world record ...and then some!

Time to Eat: After all this hard work it was time to devour the fruits of our labors. The lobster roll was cut into 6-inch serving sizes and sold to an eager crowd of onlookers.

The money generated was given to local charities.

Mark Eller, Founder
Coastal Critters Clambakes

PS: Our group has held this Official Guinness World Record for 12 full years. I would say that's quite a feat by by anyone's standards. However, the West End Neighborhood Association of Portland ME has since outdone us. In June of 2009, that group beat our record as part of a promotional event to raise money for a local youth group. I can't say that I don't have mixed feelings about that, but what I can say is: CONGRATULATIONS! We're proud to have passed the tourch for such a worthy cause.
Tell Us About YOUR Event!
Call us at 207-338-3384
Email us at: info@coastalcrittersclambakes.com